What team do you support?

Football; the world's greatest sport, the sport that God intended man to play, often mispronounced as "Soccer" because some tongues roll an "S" off when trying to pronounce an "F" sound. England; home of Football. Where it was invented, developed and made into an international business. And in true English sporting fashion; shared with the rest of the world who would go on to do it better ;-pLike most young boys in England, I too grew up fascinated by the world of professional Football. I grew up watching Football on the TV, be it live, highlights on Match of The Day or desperately seeking the latest scores in non-televised games via the primitive internet that was Teletext. I played Football at school during playtime, in the playground in which the rules were slightly bent as we never had boundaries or off-sides, and often employed the services of an extra goalkeeper which was permitted by the imaginary power of "pop in" or "scramble" goalies. Like most boys at the time, I dreamt of being a professional Football player for both my club and country. When I was 9 years old, Football was the most important thing in the world, now that I had grown up and given up on my original dream to become a Ghostbuster.
Busting made me feel good…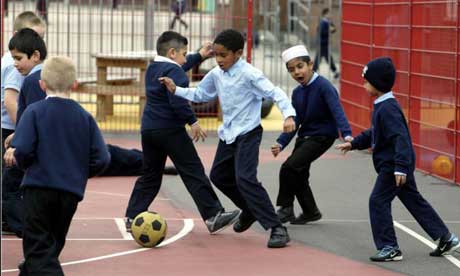 …but scoring goals made me feel even better.Although I've lived in London most of my life, I grew up supporting Liverpool FC, even though to this day I have never been to Anfield. Yes, I grew up supporting a team to which I have no real affiliation other than they were really good when I was a kid, and so I was a bit of a glory hunter. But then so were ALL the kids in my school. However, I did go to watch Wealdstone FC games when I was a kid as their stadium used to be right around the corner from where I used to live.I watched Liverpool win the league in the 1989-1990 season, I was proud and stuck by my team even though the following year Kenny Dalglish left during the FA Cup Quarter Final replay against Everton, after which Liverpool descended into chaos until Graeme Souness came to the rescue and led the mighty Reds to FA Cup victory against Sunderland in the summer of 1992. I was also the first kid in my school to own the official 1990 England World Cup Squad jersey and I would wear it with pride on weekends, mufty day and even on Eid.When a new boy joined our class, all the other boys first reaction was to ask "What team do you support?", followed by what position they played and then we'd ask what their name was. That's the way it was done. We didn't care about the colour of your skin, it was the colour of your team's jersey that mattered most.Then I went to live in America, where I was robbed of my Englishness and called "Muffin" every day. No access to Match of The Day or Teletext, I lost touch with English Football and was victimised by my American school chums for my accent (which the girls liked) and because at 12-13 years old I was a mere 5ft tall compared to my cholesterol-engineered peers who were much larger and actively attracting smaller planets into the orbit of their nacho-munching faces. Then in the summer of 1993, England came to the USA to play in a friendly, and finally I thought I was going to have my moment of victory and rubbing it into the face of my Yankee friends. But no, it seems that life had conspired to humiliate me yet again as we lost 2-0. I got on the school bus the next day to a roar of laughter, I dipped my head a found a seat somewhere in the back and sulked.When I came back to England, a lot had changed. Puberty had set in and I now had hair in funny places and I had seen Jurassic Park months before it had come out in the UK and as a result could do this impression of a dinosaur that I would use to chase my little cousins around the house. Having been removed from the English Football culture, I was no longer in touch with it all. Although I love to play Football, the withdrawal at such a age totally wiped me of any interest in following the game any more, especially since now I had gotten a Super Nintendo with Street Fighter 2. These days I only watch Football if England are playing, this is because Football and patriotism to me go hand in hand. I get really annoyed when friends of mine say they 'support Brazil' though neither having ever been there or having any Brazilian affiliation whatsoever. Bobby Robson's England squad of 1990 was the best, it's not been the same since then.
They don't make em' like they used to…
Web design by LUA